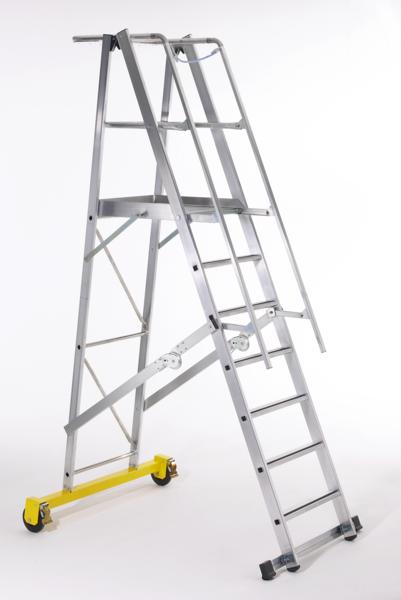 Z600 Mobile Warehouse Steps
Ergonomically designed ladder with large platform for increased freedom
of movement and safe standing.
High-strength ZARGES quality flanged connection between tread and stile.
Support section with horizontal stabiliser and castors with locking mechanism
(160 mm diameter).
Aluminium work platform, approx. 600 mm × 630 mm, with three-sided safety
guard rail.
Hinges on both diagonal struts mean that the ladder can be easily folded and put away to save space.
Narrow running gear with ballasting on request.
The two handrails to ensure safe use of the ladder automatically lay on top of the
ladder when packed
Product Code
Platform Height (m)


Height Including Rail (m)

Number of Rungs

Overall Span(m)
Chasis-Beam Width (m)

Wide Crosspiece

(m)

Stile Dept\Back Stay (mm)

Weight(Kg)
41201

1.00

2.00

4

1.25

1.09

-
73/58

32.2

41202

1.30

2.30

5

1.40

1.09

-

73/58

33.4

41203

1.60


2.60

6

1.50

1.29

1.00

73/58

36.4

41204

1.80

2.80

7

1.65

1.29

1.00

73/58

39.0

41205

2.10

3.10

8

1.80

1.69

1.00

73/58

45.7

41207

2.60

3.60

10

2.10

1.88

1.40

73/73

51.0

41209

3.10

4.10

12

2.40

1.88

1.80

73/73

55.0