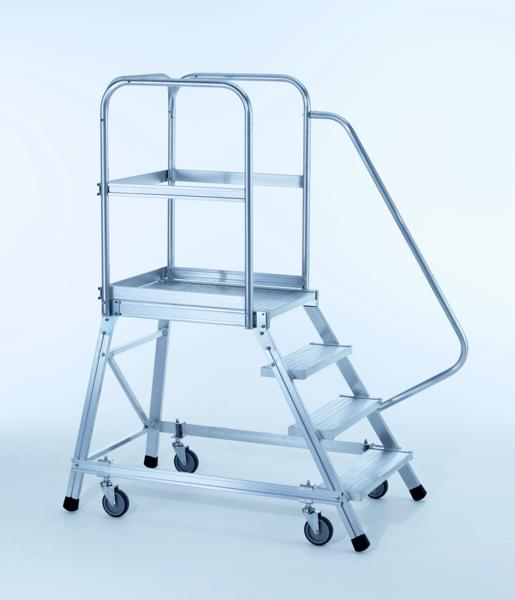 Zarges Mobile Platforms
ZARGES mobile platforms provide you with a safe and comfortable workstation for a range of applications. Generously-proportioned steps ensure comfortable ascent and descent and the roomy standing platform means less tension even when working on lengthy jobs. You also keep both hands free ("2HF Principle") whilst your tools and working materials are readily to hand.  Because castors are a standard feature of our platforms, they can be moved comfortably and conveniently from one location to another.
All ZARGES mobile platforms are tested for compliance with the applicable standards and specifications of BGI 637 and /or EN 131.It goes without saying that they also meet the requirements of the accident prevention standard BGV D 36.

- Tread depth 200 mm. Stand platform.
- 600 mm x 800 mm..
- Guard-rail height 1.00Mt.
- Four sprung swivel casters.
- Conforms to BGV D 36 and BGI 637 - 2004.
Some of our most popular models include:
| Product Code | No. Rungs | Base (m) | Platform Height (Excl Guard Rail) (m) | Weight (KG) |
| --- | --- | --- | --- | --- |
| 41971 | 3 | 0.81 x 1.26 | 0.72 | 29.00 |
| 41972 | 4 | 0.88 x 1.46 | 0.96 | 33.00 |